Awareness-raising activities in Benin on groundwater biodiversity
Thanks to CEBioS support, Dr Patrick Martin from the Royal Belgian Institute of Natural Sciences (RBINS) gave a series of awareness conferences on the biodiversity of Benin's groundwater in September 2019.
| | |
| --- | --- |
| Release date | 04/10/2019 |
| Geographical coverage | Benin |
| Keywords | taxonomy, awareness, aquatic ecosystems |
These conferences were held as part of the GTI project funded by CEBioS entitled 'Taxonomie des invertébrés des eaux souterraines du Bénin : ouvrir la voie aux outils d'évaluation et de biomonitoring de la qualité de l'eau.' This research project is being carried out in collaboration with Dr Moïssou Lagnika from Université d'Abomey Calavi.
The objectives of the project are to develop a genetic reference library of stygofauna, an essential step in the development of future tools to bio monitor and assess the integrity and health of underground aquatic ecosystems in Benin.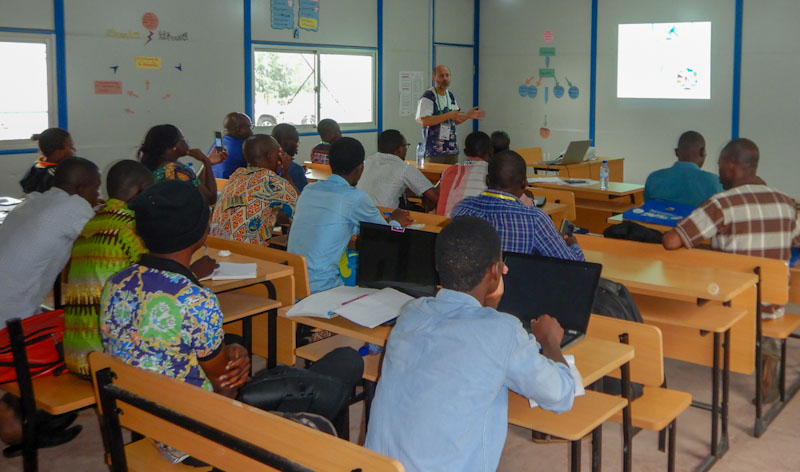 photo: Joseph HOTEKPO (UAC)
Link to an article in the Beninese press by Fréjus Massihounton on the conference held on 23 September at UNA: http://www.les4verites.bj/L-ecole-d-Aquaculture-de-l-UNA-se-preoccupe-de-la-qualite-des-eaux-souterraines.html (source: Les 4 vérités - 25/09/2019)
Second article on the open conference held at Université de Parakou on 25 September: http://www.laperchedunord.info/?p=3517
Please note that this information has expired.