LOKO YEYINOU Laura Estelle, Benin
Project title: Diversité des termites (Insecta: Isoptera), principaux ravageurs des tubercules d'igname (Dioscorea sp.) et résistance des variétés locales au Bénin
Abstract: Les ignames ont une importance alimentaire, commerciale et culturelle en Afrique de l'Ouest et particulièrement au Bénin. Cependant, leur culture se trouve de nos jours confrontée à plusieurs contraintes dont les attaques des ravageurs. D'après les producteurs, les termites représentent les principaux ravageurs des tubercules d'ignames aux champs. Ils sévissent dans toute la zone de production de l'igname au Bénin et de par leurs dégâts ils conduisent à une baisse importante des rendements mais aussi à une perte de diversité variétale. Il urge donc de trouver des méthodes de lutte permettant de lutter respectueuse de la santé humaine et de l'environnement contre ce ravageur. Cependant l'identification du ravageur reste l'un des prérequis pour une lutte efficiente contre un ravageur. En plus, sachant que les termites jouent un rôle conséquent dans l'alimentation des populations, une lutte orientée seulement vers les espèces nuisibles est souhaitable.
Training location: Université Libre de Bruxelles (ULB).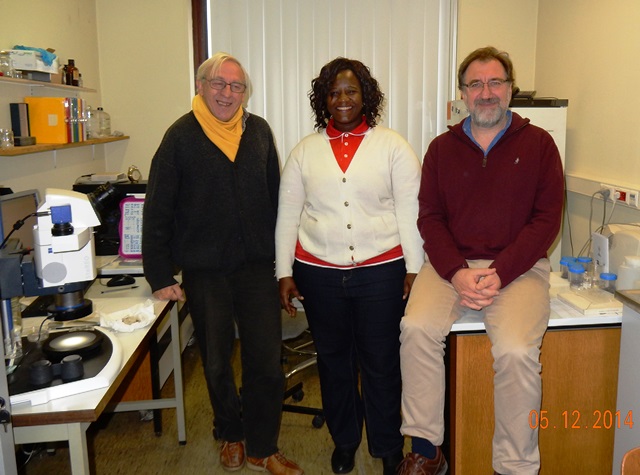 Dr Loko Estelle Laura at the ULB with Dr Yves Roisin and professor Guy Josens.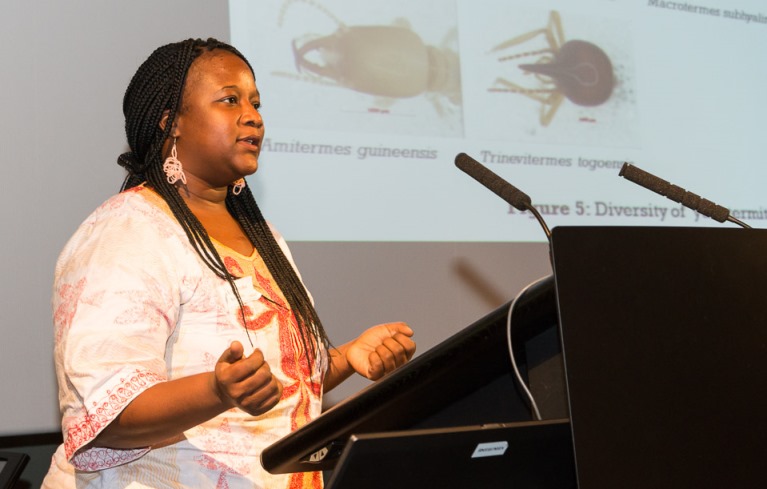 Dr Loko Estelle Laura presenting her research at CEBioS event on biodiversity and development, 26/11/2015.